MAKE BETTER REFERRALS WITH THE NIAAA ALCOHOL TREATMENT NAVIGATOR®
Pointing the way to evidence-based care®
Different patients with alcohol use disorder (AUD) may need different treatment options. Fortunately, today there are more choices than you and your patients may expect
Specialist physicians, therapists, and programs offer evidence-based AUD treatment at different levels of intensity in a variety of settings. Telehealth and online options allow for physical distancing during the COVID emergency while offering flexibility and privacy that may appeal to many patients.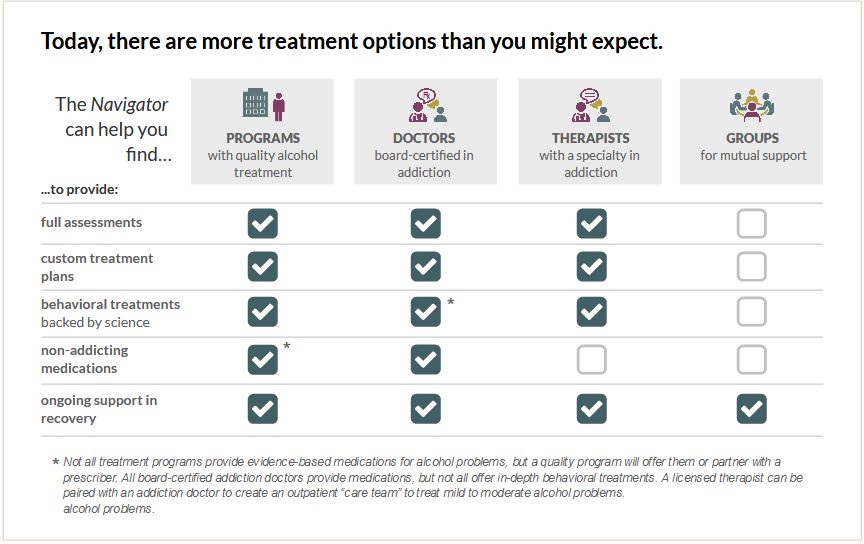 The NIAAA Alcohol Treatment Navigator can help you connect patients with the full range of evidence-based, professional alcohol treatment providers. You can do this in two ways:
Build or expand your referral list. Use the Navigator to add quality specialists—therapists, physicians, and programs—that offer evidence-based care.
Share the Navigator directly with patients. Help your patients and their loved ones understand today's varied treatment options--and put some decision power in their hands.
See the sections below for tips on using the Navigator, sharing it with patients, and helping patients who drink too much.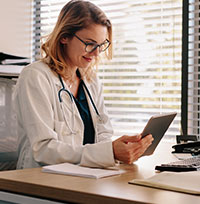 HOW TO BUILD OR EXPAND YOUR REFFERAL LIST IN 3 STEPS
Search – Ask - Choose
Here's how to add quality alcohol treatment providers to your referral list:
Step 1 - Search: Use trusted directories to find specialty physicians, therapists, and programs. Some results may require an easy follow up search online for contact info.
Step 2 - Ask: See the recommended questions to ask and learn how to listen for quality in the answers. You'll confirm credentials, services, availability, and more.
Step 3 - Choose: Capture what you learn from providers in a Choices Chart. You can then see at a glance which ones have the most signs of quality, which will help you choose wisely.
Note: During the COVID-19 emergency, the Navigator can help you locate quality alcohol treatment through telehealth services or online programs. Make sure to add these resources to your referral list if you think your patients would benefit from them.
You can use this Referral Sheet Template, below, to organize, print, and share your new list of referral resources.
Referral Sheet Template
Organize and print your new list of the referral resources you found.
---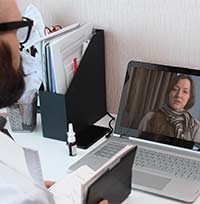 HOW TO SHARE THE NAVIGATOR WITH PATIENTS
Tips for sharing with patients or family members who wish to search on their own.
---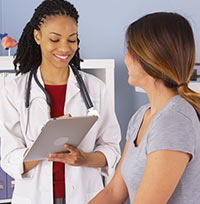 HOW TO HELP PATIENTS WHO DRINK TOO MUCH
Resources for alcohol screening, assessment, and treatment with medications.
Here are resources to support you in screening all patients for heavy alcohol use, assessing those who drink heavily, and treating those with alcohol use disorder (AUD).
USPSTF recommendation for alcohol screening
Screening and brief intervention guides
Assessment and diagnosis support
AUD medication guides
Implementation guides
Clinical trials on alcohol treatment
See also Helpful Links for links to mutual support groups, eHealth treatment tools, resources for family and friends, and adolescent treatment resources.
---
Here's what primary care providers are saying about the Navigator:
It takes the guesswork out of finding resources and makes the search process easier.
– Physician assistant
It gives a framework for the approach to take with the next patient in need.
– Internal medicine physician
It can put some of the power and decision making into the hands of the patient and family.
– Nurse practitioner